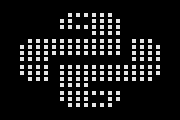 This is something I've been wanting to write for a while.
Unicode page U+2800 has all the combinations of a 2x4 grid of Braille dots. Braille dots that line up neatly with the ones on all sides in most fonts. We can paint with this!
So I decided to have a little fun and write the whole thing as a generator expression. Let me know if you have any improvements!
https://gist.github.com/wardi/5131529
D

 

=

 

"""
      xxxxxx
     xx  xxxx
     xxxxxxxx
         xxxx
 xxxxxxxxxxxx xxx
xxxxxxxxxxxxx xxxx
xxxxxxxxxxxxx xxxx
xxxx          xxxx
xxxx xxxxxxxxxxxxx
xxxx xxxxxxxxxxxxx
 xxx xxxxxxxxxxxx
     xxxx
     xxxxxxxx
     xxxx  xx
      xxxxxx
"""





from

 

itertools

 

import

 

izip_longest

,

 

chain




print

 

u

'

\n

'

.

join

(

u

''

.

join

(

unichr

(

0x2800

 

+

 

sum

((

cell

 

==

 

'x'

)

 

*

 

(

1

 

<<

 

shift

)


    

for

 

cell

,

 

shift

 

in

 

zip

(

cells

,

 

[

0

,

 

3

,

 

1

,

 

4

,

 

2

,

 

5

,

 

6

,

 

7

])))


    

for

 

cells

 

in

 

izip_longest

(

*

chain

(

*

[[

iter

(

r

)]

 

*

 

2

 

for

 

r

 

in

 

quad

])))


    

for

 

quad

 

in

 

izip_longest

(

*

([

iter

(

D

.

strip

(

'

\n

'

).

split

(

'

\n

'

))]

 

*

 

4

),


    

fillvalue

=

''

)).

encode

(

'utf-8'

)



(As mentioned above, I don't normally code this way)