Ian Ward
Software
---
Writing
---
Presentations
Ian Ward's email:
first name at this domain
wardi on OFTC, freenode and github
News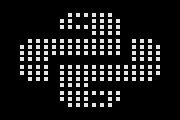 Posted on 2013-03-14, last modified 2013-03-15.
This is something I've been wanting to write for a while.
Unicode page U+2800 has all the combinations of a 2x4 grid of Braille dots. Braille dots that line up neatly with the ones on all sides in most fonts. We can paint with this!
Posted on 2013-02-26.
This is the second part of the talk I gave January 24, 2013 at the Ottawa Python Authors Group.
Part One introduces Python iterables and iterators and generators. This part covers the advanced use of generators while building an interactive two-player network game.
Tags: Ottawa Software Python OPAG
Posted on 2013-02-12.
Tags: Ottawa Software Python OPAG
Urwid Applications at PyCon Canada
link
Posted on 2012-11-14.
I gave a 20-minute talk running through 7 great Urwid Applications at PyCon Canada in Toronto this past weekend.
The "Console Applications with Urwid" video is now available. Huge thanks to the conference organizers for great, first, PyCon Canada. I look forward to the next one.
The programs I covered were:
Tags: Urwid Software Video Python
Posted on 2012-11-01.
This post covers some basic Python syntax that tends to trip up people just starting with the language.
Literal tuple, list, dict and set definitions have some edge cases you need to be aware of when reading and writing Python code. Unfortunately some of these cases aren't consistent or obvious, but once you understand why they exist, they are easy to remember.
Urwid 1.0.2 Released
link
Posted on 2012-07-13.
Urwid maintenance release 1.0.2 is now available.
Posted on 2012-04-26.
Gerbi CMS (nee django-page-cms) is a multilingual content management system written in Python and based on the Django web framework. It's currently my favourite CMS software and use it for a number of web sites I administer.
I'll be giving a talk about Gerbi CMS at the next OCLUG and OPAG meetings resembling this article.
Tags: Django Ottawa OCLUG Software Python
Posted on 2012-04-09.
If you've ever wanted to know if a Django template is using a variable it shouldn't be, or not using a variable it should, this code will make both cases fail loudly. Django's default template behaviour is to silently replace missing variables with an empty string, and ignore unused variables.
To use this code you can either:
wrap your Context (or RequestContext) object in your view with a ParanoidContextProxy that will fail on any attempt to access a missing variable, or
use the paranoid_render_to_response function (or similar) to also require that every variable you pass be used in the template.
« page 1 2 3 4 5 … 9 10 11 page »